You are here
About us
In Zambia, UNFPA, the United Nations Population Fund, is implementing its 8th Country Programme of Cooperation with the Government of Zambia (2016-2020).
Focused on inclusive social development and ensuring that "no one is left behind", the Programme is aligned with Zambia's revised Sixth National Development Plan; Zambia's Vision 2030; and the United Nations Sustainable Development Partnership Framework (UNSDPF) 2016 – 2021.
Supported with an estimated $36.8 million, the 8th Country Programme is focused on 3 outcomes namely:
Sexual and reproductive health
Adolescents and youth
Population dynamics.
Our work in Zambia ensures that every pregnancy is wanted by providing information and choice of contraceptives to women and men; that every childbirth is safe through training of midwives, provision of essential medicines and equipment to avert maternal morbidity and deaths; and that every young person's potential is fulfilled by equipping them with knowledge, skills and values that will enable them to develop a positive view of their sexuality and linking them to services; and building their capacity to participate in national development processes.
Implementation Approach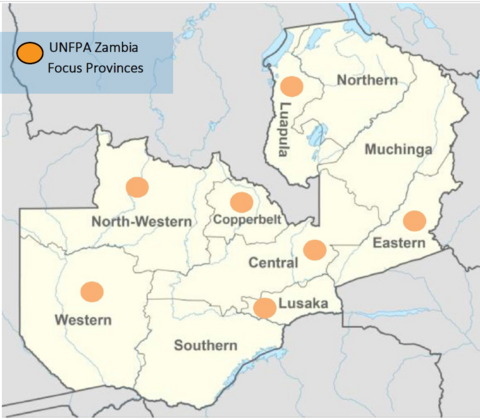 UNFPA's collaborations with the Government of Zambia are at 3 levels:
National level – including policy, advocacy, knowledge management including data generation and analysis, as well as institutional and technical capacity development. UNFPA also supports procurement of RH commodities, alongside improving supply chain management systems.
Provincial level – including capacity building and knowledge management.
District and community level – including targeted service delivery, capacity development and knowledge management.
Targeted sub-national collaborations with Provinces and districts include:
Northwestern Province:  Solwezi, Zambezi, Chavuma and Mufumbwe districts
Luapula Province: Samfya, Milenge and Mansa districts
Western Province: Kalabo, Lukulu, Mongu and Kaoma districts
Eastern Province: Katete, Petauke, Chadiza districts
Central Province : Chibombo, Chisamba, Kapiri-Mposhi, Ngabwe, Mkushi, Luano, Chitambo, Itezhi Tezhi districts
Muchinga Province: Chama district
Copperbelt Province: Ndola, Luanshya, Kitwe, Mufulira, Chingola and Masaiti districts
Lusaka Province:  Lusaka, Kafue, Chilanga, Chongwe, and Rufunsa districts