PURPOSE OF CONSULTANCY
As part of ongoing efforts to support the prevention and reduction of adolescent pregnancy in Zambia, UNFPA in Zambia seeks to engage the services of a media and communications agency to design and implement a multi-media advocacy and communications campaign, aimed at addressing the multi-dimensional key drivers of teenage pregnancy.
SCOPE OF WORK
1. Campaign design
The successful agency will will be expected to provide at least two creative concepts for a campaign launch (as part of the initial bidding process) focused on the prevention and reduction of adolescent pregnancy in Zambia. Through coordination with the adolescent technical working group (at the Ministry of Health) and the NAC IEC committee and UNFPA, a final campaign concept will be agreed, leading into the implementation phase.
The agency is expected to offer creative and memorable ideas for reaching the target audience with the key messages. Creative direction for each proposed concept should be clear, compelling, and powerful yet simple enough to be understood by the intended audience and stakeholders. UNFPA in this regard will be looking for a strong campaign that immediately resonates with different target audiences and echoes the work and values of UNFPA that early pregnancy and motherhood are closely linked to issues of human rights and that all young people must have access to sexual and reproductive health information, counselling and services, including contraception.
As part of this, UNFPA will be looking for a concept executed through a memorable campaign phrase/logo/song/jingle that can continue throughout the one-year campaign, and link separate community-based activities with the national campaign. The proposal will clearly outline how and when implementation of the campaign will be undertaken. It will provide a detailed description of proposed timelines for key milestones such as the completion of design and production works. Should proposed concepts be dissatisfactory, UNFPA will require the agency to produce an alternative proposal accordingly with no additional cost to UNFPA.
The agency must provide an itemized quote containing a detailed description of the specifications and inputs (e.g. photography, media presentations, radio production, print media etc.). The agency will be expected to propose a realistic timeline from conceptualization to implementation
2. Campaign implementation
Once all design work has been approved and signed off and all materials produced, the contractor shall proceed to implement the campaign. At this point, the contract may be modified to account for the proposed work. UNFPA reserves the right to procure services and products directly. Communication channels will be determined by the campaign concept, but potential tools include message placement, social media, billboards, PSAs, media work (press releases) SMS blasts and broadcast media discussions.
DELIVERABLES/EXPECTED OUTPUTS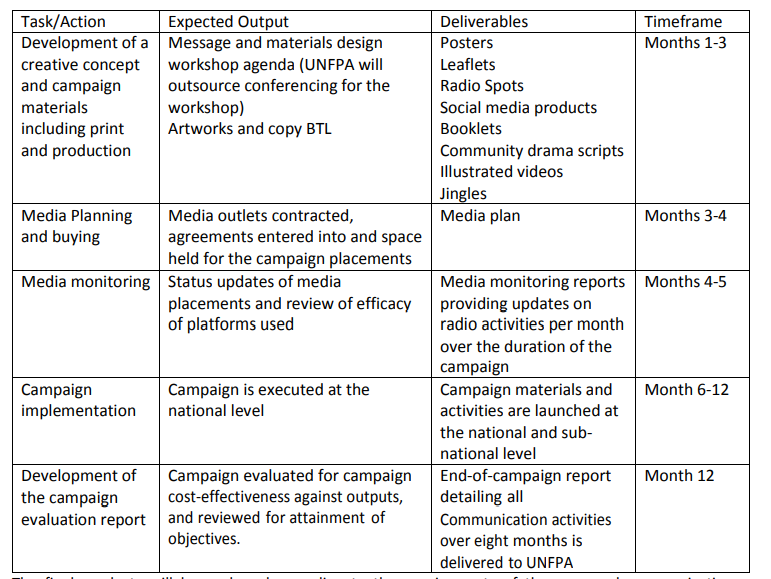 DURATION: 12 months
REQUIRED EXPERTISE AND COMPETENCIES: The successful entity is required to meet the following criteria:
Registered with legal entity: Certificate of incorporation or equivalent document verifying legal status/capacity
Must have sound financial capacity: required to provide audit financial report for the last three years
Strong theoretical and practical background in graphic design, including the use of design software such as Adobe Design Premium, In-Design, CorelDraw, web design tools such as Dreamweaver and Flash, etc.
Show a clear and mature style of design, demonstrating understanding of the communication requirements of a UN agency and its partners such as Government
Proven experience of graphic design processes from start to published/printed products, with knowledge of printing processes (offset and digital) and colour management
Good understanding of new and evolving technologies and digital platforms
Existing UN long term agreement will be an advantage
The agency must provide at least three client references for whom the agency has carried out previous similar work. The references must be specific indicating name and description of clients and assignment conducted.
HOW TO APPLY
Interested applicants should send electronic copies of their Application Letter, Company Profile and other relevant documentation highlighted above with the subject clearly marked as "Consultancy Assignment -  Prevention and Reduction of Adolescent Pregnancy Campaign" to the email address below by 5 October 2021, close of business. See Annex A for price template for required materials
                                      To: The Procurement Team
                                      Email Address: zambia.office@unfpa.org
DISCLAIMER
UNFPA does not charge any application, processing, training, interviewing, testing or other fee in connection with the application or recruitment process. Fraudulent notices, letters or offers may be submitted to the UNFPA fraud hotline http://www.unfpa.org/help/hotline.cfm