"I want to become a neurosurgeon, specialized in the nervous system. I have been inspired by Ben Carson...and the fact that it really hurts me to see a lot of people die from complications related to the nervous system because we have a limited number of neurosurgeons in Zambia" says 16 year old Anna Nakanyika, a grade 11 learner at Kamulanga Secondary in Lusaka.
Anna is among 3 adolescent girls who were recently awarded Ecobank Zambia scholarships to complete their secondary and tertiary education, in collaboration with the Ministry of Higher Education and the United Nations Population Fund (UNFPA). The girls were awarded the scholarships following their participation in the "What If..." campaign by the Government of the Republic of Zambia in collaboration with the United Nations System in Zambia (UNFPA, UNESCO, ILO, UNIC, UNICEF, IOM, UN Women). 
With a total of 15 secondary school girls and 9 women from various women's network groups participating, the "What If…" campaign featured the collective commemoration and launch of the "2017 International Day of the Girl Child" and the "2017 State of World Population Report"; focused on amplifying the voices and representation of girls and young women to further advance the national discourse and investment landscape towards addressing risks and vulnerabilities that limit the actualization of the full potential of adolescent girls and women. 
"We are very grateful for the generous support we have received from Ecobank, as well as the Ministry of Higher Education and UNFPA, to pay all our tuition and exam fees from secondary education until university. We promise to utilize this opportunity to work hard towards achieving our dreams of becoming a Neurosurgeon, an Engineer and a Lawyer, and grow into responsible Zambian citizens who will contribute to the development of our country" said 16 year old Artiness Mwanza, a grade 11 learner at New Mtendere Secondary School after receiving the certificates of scholarship.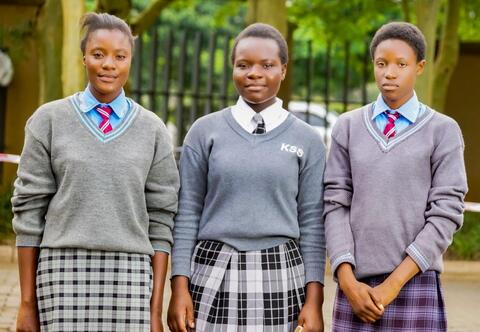 The joyous handover ceremony was officiated by the Minister of Higher Education, Hon. Professor Nkandu Luo. The Minister commended Ecobank for contributing to national efforts aimed at fulfilling the right to education, especially for vulnerable for girls.
"I would like to acknowledge Ecobank Zambia and Ecobank Group for coming on board to support girls' education in Zambia. Limited access to financial resources often prevents families from being able to pay school fees for their children, especially girls, and is among the prominent reasons why adolescent girls are denied the right to education" Prof. Luo said.
Also speaking at the handover ceremony, UNFPA Zambia Representative Dr. Mary Otieno highlighted the significance of girls' education towards improved sexual reproductive health outcomes; and reaffirmed UNFPA's commitment in this regard.
"Evidence shows that an educated girl is less likely to get pregnant or be infected with HIV in teenage years because of the information and knowledge on sexual reproductive health acquired in schools. Similarly, education can decrease early marriages which arise in part due to the mother's illiteracy and lack of capacity to build a safe and healthy family. On behalf of UNFPA, I reiterate our commitment to sustain collaborations with the Government of the Republic of Zambia and other partners, to ensure that girls are not left behind as Zambia aspires to become a prosperous middle income country within the context of Zambia's vision 2030" Dr. Otieno said. 
Speaking on behalf of Ecobank Group, Ecobank Zambia Managing Director Mr. Kola Adeleke reaffirmed the Bank's commitment to support the Government of the Republic of Zambia towards addressing inequalities affecting communities, especially in the health and education sectors.
"As part of the Ecobank Group, we are particularly sensitive to the challenges in access to quality education within the communities we operate. In this regard, I would like to reaffirm Ecobanks' support, through our corporate social responsibility programme that is dedicated to supporting community welfare and development, whilst also addressing financial inclusion across Africa" Mr. Adeleke said.