UNFPA: Delivering a world where every pregnancy is wanted,
every childbirth is safe and every young person's potential fulfilled.
22 October 2016
Ten-year-old Temawelase is a sixth-grader in a rural community in the Hhohho region of Swaziland. Almost 4000 miles away, her age-mate Daline has just finished primary school in Yaoundé, the political capital of Cameroon. Both girls dream of a bright future and work hard at school to realize this.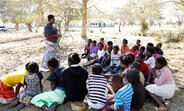 31 August 2016
How Safe Spaces for Girls are Preventing Child Marriage
Meet twelve year old Alifonsino from rural Petauke in Eastern Zambia. At age ten, Alifonsino dropped out of school due to limited support from her family. And now, Alifonsino has even more concerns on her mind.

The Demographic Dividend: Unlocking Africa's Youth Potential

Midwives: Health Heroes for Women, Adolescent Girls and Newborns
Straight Talk on LOVE and RELATIONSHIPS. Check out this new TUNEME Video!
Sustainable Development Goals Explained: Good Health and Well-being