UNFPA: Delivering a world where every pregnancy is wanted,
every childbirth is safe and every young person's potential fulfilled.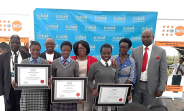 14 December 2017
Government, Ecobank, UNFPA Collaborate to #InvestInGirls
"I want to become a neurosurgeon, specialized in the nervous system. I have been inspired by Ben Carson...and the fact that it really hurts me to see a lot of people die from complications related to the nervous system because we have a limited number of neurosurgeons in Zambia" says 16 year old Anna Nakanyika, a grade 11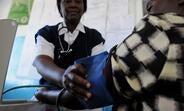 11 December 2017
Uphold the Right to Health for All to End AIDS by 2030
  Statement of UNFPA Executive Director for World AIDS Day 2017   One new HIV infection is one too many – and in 2016 there were 1.8 million. In adopting the Sustainable Development Goals, the international community committed to ending AIDS by 2030. This will only be achieved by ensuring everyone's right to health. This right
10 December 2017
OPINION: Our children, daughters, nieces, sisters, aunties, mothers and grandmothers deserve to live in peace and dignity
In Zambia, the problem of violence not only against women and children, but men and boys is worrisome and no longer an isolated problem, but a widespread, harrowing, tragic and daily affair that can no longer be ignored as it touches and impacts every Zambian in one way or the other. One only has to pick a daily newspaper to

This report takes its inspiration from the United Nations Secretary-General's Every...

A policy brief on child marriage in Zambia. Child marriage is a human rights violation,...
No vacancies currently available