UNFPA: Delivering a world where every pregnancy is wanted,
every childbirth is safe and every young person's potential fulfilled.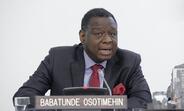 16 June 2017
UNFPA Zambia staff celebrate the life of Dr. Babatunde Osotimehin
Dr. Babatunde was one of a kind. We have lost a truly brilliant and remarkable man. Dr. Babatunde assumed office at a difficult time in UNFPA. However, through his leadership, he shaped the organization and that is why we are where we are. Today, people know what UNFPA is mandate is all about. He ensured that there was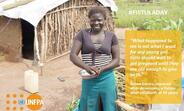 5 May 2017
"Midwives, Mothers and Families: Partners for Life"
UNFPA, the United Nations Population Fund in Zambia is pleased to join the government and people of Zambia in commemorating the 2017 International Day of the Midwife under the theme 'Midwives, Mothers and Families,...

The Demographic Dividend: Unlocking Africa's Youth Potential

Midwives: Health Heroes for Women, Adolescent Girls and Newborns
Straight Talk on LOVE and RELATIONSHIPS. Check out this new TUNEME Video!
Sustainable Development Goals Explained: Good Health and Well-being